Hey all, thanks for checking out my blog!  Many of you know about my travels and adventures, but I wanted to take a minute to share something I'm working on.  I'd love it if you'd support the blog by making a donation, even if it's small at http://www.gofund.me/nomadorwhat.
I wont tell you my entire life story here, you'll have to wait for the book to come out to hear the rest, but I will share a bit about my background, what led me to this place in my life and why I'm asking for your donations.
As a young girl, I learned at an early age that life is not always easy, and sometimes it's just downright hard.  By my 5th birthday I had already experienced the death of two of my grandparents.  At 15 I was sexually assaulted at school by an older student.  I was devastated and emotionally scarred.  While stile trying to heal from one emotionally difficult situation, I was forced the following year to face another when my father, who had been dealing with long term depression and other mental health issues, attempted suicide. As an impressionable and emotionally fragile 16 year old, I was the one who found his nearly lifeless body that fateful day.
I became for many years a victim of my circumstances. At 20 I suffered through an extremely abusive relationship that isolated me from my family and friends, and managed to barely make it out with my life.  As I turned 21 and entered my adulthood, I was so broken and lost. Outwardly my life would appear fine as I held a job, sometimes two, supported myself, and sometimes someone else, and also went to school.  But inwardly I was torn apart by trauma and self loathing.
Through my early 20's I struggled to find my place in the world and in 2008, fed up with corporate slavery, I quit my job at P&G in Cincinnati, and my boyfriend at the time, and I, left behind the state of Ohio.
We traveled the country for nearly a year, working on cattle ranches (one in Nevada where I adopted Eureka) to support ourselves.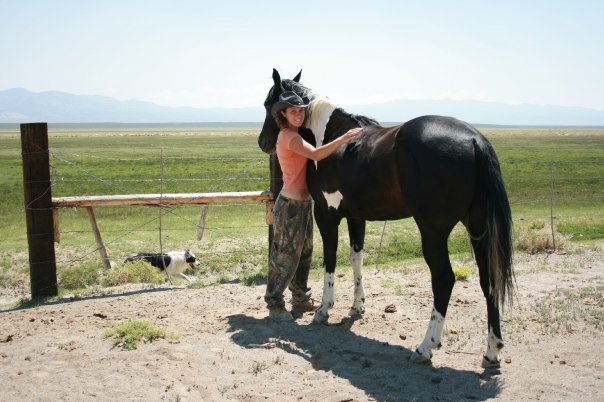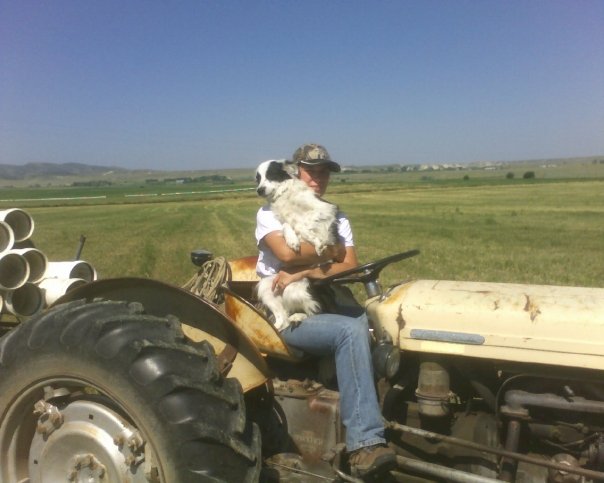 The journey changed my life.  It made me realize that I was bigger than my circumstances and greater than the sum of the bad things that had happened to me.  Returning back to the East coast, a new fire burned brightly in me.  We settled back into society and moved into a little country house in Kentucky with 8 acres.  There we adopted a horse and another dog and I felt that this was the beginning of a beautiful new life and adventure.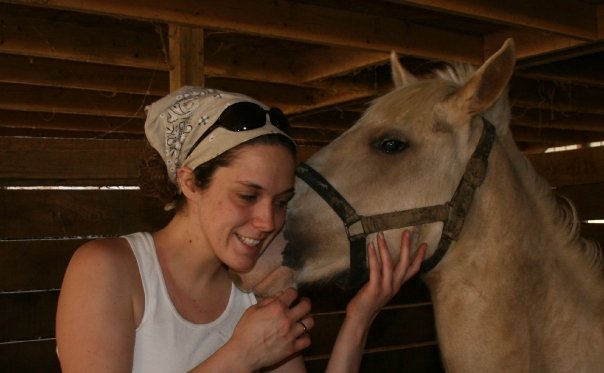 (Weibe, my horse, giving me nuzzles)
3 months later my vision was shattered when I returned home from work to find missing, all my most valuable possessions, a safebox with $2000 I'd saved up and also my boyfriend.  After calling the police, filing a report, and trying over and over again for a week to contact him, I finally reached him only to be shocked with the news that he had been abusing drugs.  He had stolen from me and abandon me there in KY with a house, 3 dogs 2 cats and a horse.  Needless to say that was the end of that relationship.
I was forced to start over for what felt like the 1000th time.  I lived in a motel 6 in Cincinnati with 2 dogs (I had to find a home for the other) for 3 months while I worked two jobs to save for an apartment.

                                                                                                                                                        (Eureka and Cali and I at the Motel 6)
Finally I made enough and settled into my new little place.  The following year I moved into a quaint little one bedroom house in Norwood Ohio and landed an excellent job at 5th 3rd Bank.  Things were looking up! I worked there and lived in my little house for almost two years, the longest I had lived anywhere.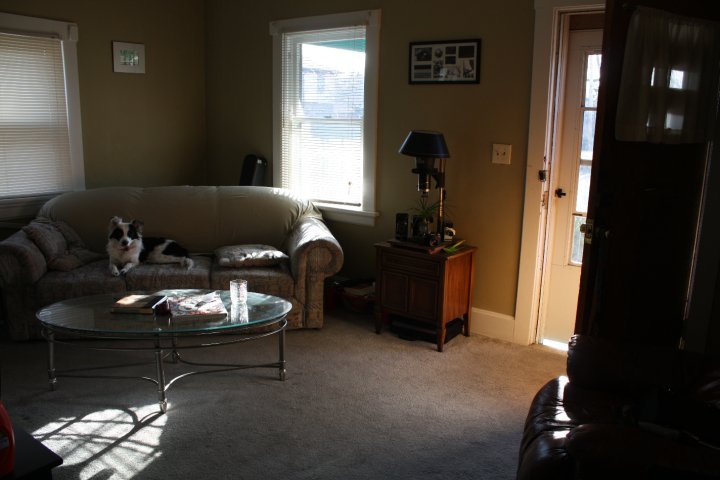 (Eureka lounging on the couch at our new house 2009)
In the beginning I liked my job and was eager to learn, but as time went on my heart knew this was not the job for me.  With no room for creativity, no ability to be impactful and very little time to work on myself personally, I struggled internally to be there every day. I stuck with it though, fearful of following my dream of being a photographer full time.  What if I couldn't make it?  In July of 2011 I got laid off from the bank and knew there was no time better than the present to follow my heart once and for all.
I started my photography business and haven't looked back.  Through all the paths my life has led me down, photography has been the one constant thing that has allowed me to express and pour out into my work, the joy and the pain of my life.  Since then, I have made many sacrifices to continue doing what I love, and learned that self employment is a great challenge.
In July of 2013, the culmination of every trauma, stress or difficult time I had not taken the time to heal from, resulted in the darkest time of my life.  An over whelming cloud of darkness and wave of terrible anxiety settled over my life, with no light and no end in sight.  Fearful that I was beginning down the road my father had traveled, I became frantic and even more anxious at the thought that I was officially losing it. But somehow, even in the darkness and the midst of 24 hour a day panic, I found that little light in me, glistening like the last ember left after a fire dies out.  And through sheer determination and strength I didn't even know I had, I began to push myself towards healing and total wellness.
I couldn't sleep well, and what little sleep I got was interupted usually right at 4am with my heart racing out of my chest.  Though nauseous (I had lost 20 lbs from not being able to eat) I began forcing myself to get up, and walk 2 miles every day.  I felt terrible, but walking helped just enough that I knew it would ease my symptoms throughout the rest of the day. I totally changed my diet to cut out processed sugars, gluten and dairy and I read and researched and read some more about anxiety, depression, it's causes and natural remedies. I read about spirituality and awareness, about life and the universe. And the more I read and learned and applied, the better I felt.  After one year of working hard, with no medication ever, I had reached a balance and rid myself of the crippling anxiety I had began with a year before.  I was finally at peace with myself and happier that I'd ever been.
Why am I sharing all this? Certainly not for pity.
I want others to know it's possible.  What is "it" ? Anything!  I've been reaching out to individuals in my community who I feel can benefit from learning my story. Because I'm no super hero, I'm just an ordinary person, who learned that the human will is extraordinary. We are all mirrors for one another to see the parts of us that are broken, undiscovered, or forgotten, the parts of us that are beautiful, strong and perfect.  It's time for me to take that message, and my work on the road.
For the past two years  I have been building this blog,  to share my travels and my experiences with all you guys in hopes to encourage you to go explore the world around you.  I have also been planning to create a more self sustaining and minimalistic life by downsizing to an RV that will allow me to travel to work and to speak to people around the country about humanity, strength and the will to overcome, as well as document my journey along the way.
With the funds I raise through Gofundme.com, I plan to find a safe and reliable RV.  I plan to use a portion of the money to get my materials written out and then begin a speaking tour to share my experience in hopes that I can be impactful through my words and photography, and give others hope.  Any additional money, will be invested in equipment I can use to document this journey. In the end I hope to publish a book about what I've learned through my journey (where you'll be able to read all the nitty gritty details of the rest of my crazy life).
I'm ready to be a part of the solution, the answer is love. And I need your help!
If you would like to contribute to helping me spread a message of hope and strength while continuing to build a life around what I'm passionate about, please donate to my campaign.  More than you can possibly ever know, I appreciate every penny and will make sure that it is used to the fullest potential.  Hopefully I'll have a chance to thank each and everyone of you personally in my travels.
(I currently have one week to move my things from the cabin I've been living in, and I'd like to move them into my new RV home, so the sooner I can reach my goal the better. I'm working hard to come up with what I can through my work and plan to match as much of the donation amount as possible with my own personal money.)
You can also follow my journey at the NomadorWhat facebook page.  or view my photography work at the LiVon Photography facebook page.
Thank YOU!!!
//funds.gofundme.com/Widgetflex.swf